Food Blogger Pro review – everything you want to know
Note: This post contains affiliate links. As an Amazon Associate I earn from qualifying purchases.
Looking to learn more about Food Blogger Pro? Check out my review and find out how this membership community has helped me grow and monetize my site in the past few years.
Affiliate Disclosure: Some of the links here are affiliate links, which means that I may earn a commission if you click on the link or make a purchase using the link. I only recommend products that I use and love myself, so I know you'll be in good hands.
Starting a blog is easy, but setting it up right so that you can get a steady amount of traffic and revenue can be anything but easy.
To be able to successfully monetize it, you need to learn about SEO, food photography, affiliate marketing, and a long list of other things.
When I started my blog in 2010, there weren't many resources available that would teach all of this. I spent a lot of time researching on the internet but was getting nowhere, and was not able to make any progress at all. Totally overwhelmed and frustrated, I gave up and decided to stop working on my blog.
A few years passed by, and somewhere around 2015-2016 (if memory serves me right), I came across Food Blogger Pro – a membership site that showed food bloggers to start, grow, and monetize their blogs.
Founded by Lindsay and Bjork Ostrom, the couple behind the very successful food blog Pinch Of Yum, this membership community had over 350, easy-to-follow video tutorials that covered the most common problems that food bloggers face, covering everything from photography to technology.
I slowly but steadily started building my blog and fixing all the things that I had not done correctly, such as having dates in the permalinks, and categories not set properly, amongst many other things.
Food Blogger Pro helped me kickstart my blog again and earn a solid income from it. Let's find out how it can help you.
How can Food Blogger Pro help you?
If you are a new blogger or someone who has been struggling to monetize your site, you'll learn everything from setting up your site correctly to shooting pictures and videos, along with how to grow your brand using social media. Last but not least, you'll learn how to monetize your site using brand sponsorships, ads, and affiliate marketing.
Some of the key topics that are covered in this membership program include
Traffic building –

How to build traffic using social media, food-sharing sites, and SEO.
How to use social media and email marketing to improve traffic and engagement.

Improve food photography –

DSLR basics
How to take photos in natural or artificial light.
How to edit your photos using Photoshop and Lightroom.
Props, composition, and styling for food photography

Monetization

How to monetize your site using ad networks and affiliate partnerships.
How to create an e-book and sell it online.

Other videos include –

How to use plugins to improve your blog.
Setting up your Pinterest and Instagram accounts (with tons of strategies on working with the brands, getting your pins/pictures noticed, etc.)
How to set up your mailing list using MailChimp and ActiveCampaign.
How to plan giveaways
Tips on submitting to food-sharing websites such as Foodgawker, Tastespotting, etc.
And, that is not all. I was also able to tap into the community several times when I was looking for answers anywhere from web stories to theme-related questions.
I really appreciate the support I get from the Food Blogger Pro community because it takes away the isolating feeling that comes from being a solopreneur.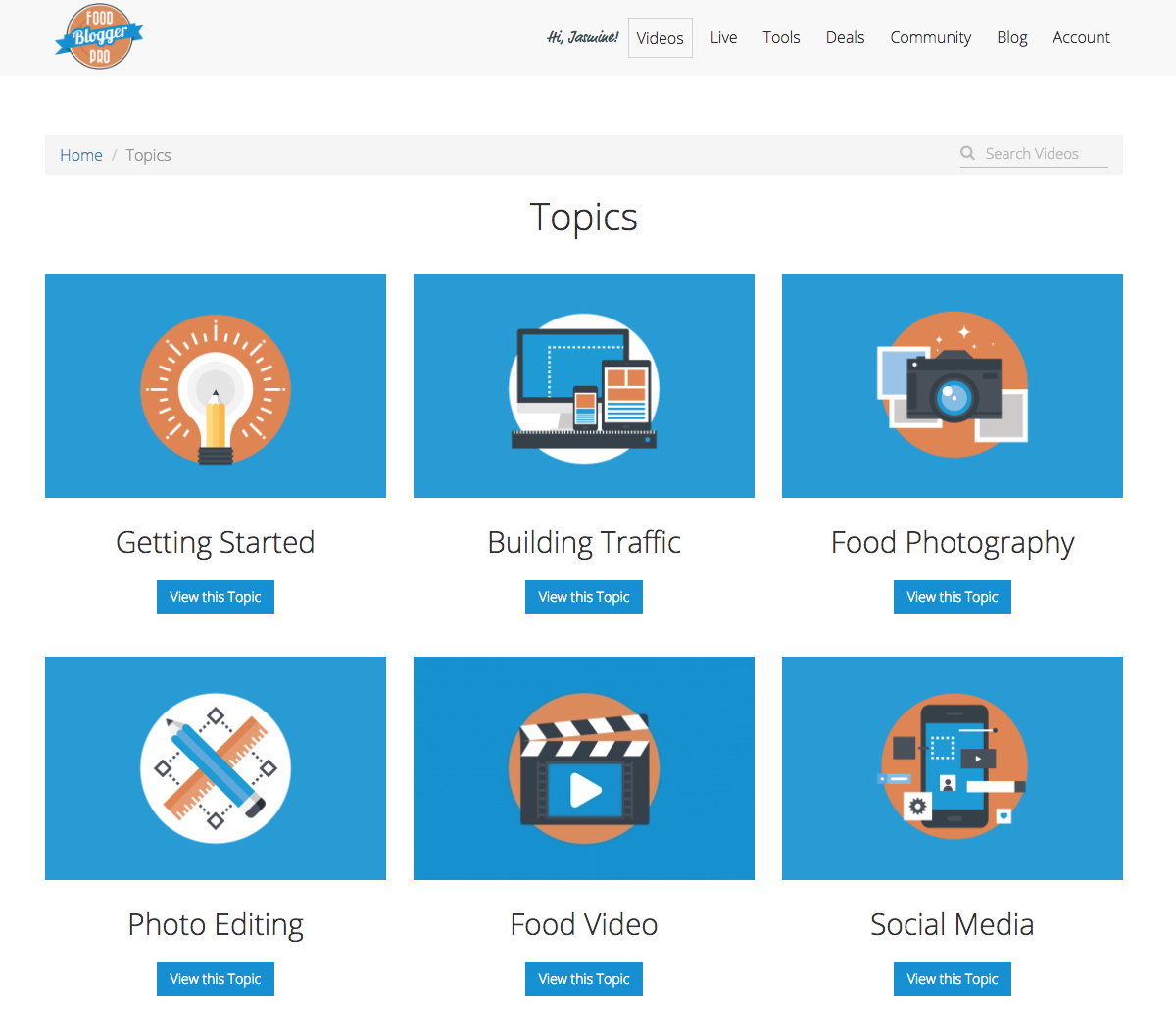 The best part – the library continues to be updated with relevant topics as they continue to grow Pinch of Yum, showing you the behind the scenes for everything they are learning.
And that's not it.. they have some great discounts on tools and services/products that are essential for food bloggers.
Will it help a seasoned blogger?
I have been with Food Blogger Pro for over four years now, and I am planning to continue my membership with them as long as I blog. It is because the food blogging industry is constantly evolving – from Google algorithm updates to social media changes and it is hard to keep up with all of it.
The Food Blogger Pro team does a great job of understanding these changes and translating them to us in an easy-to-understand manner. They share the latest and greatest happenings in the blogging world via their "Happening now" videos that come out once a month.
They also go live once a month and get industry experts to teach helpful topics such as hiring and running a team, how to build your email list, social media, etc.
Was it worth it for me?
Yes, totally. The biggest impact I have seen is
Improved my food photography
Fixed the SEO issues on my website
I was able to set up Mailchimp and start building my email list. That helped increase my engagement with my readers.
Started to see an increase in the # of followers on all my social media accounts.
Most importantly, this community became my primary source of information in an ever-changing blogging space.
If you've been thinking of starting a blog, or you want to take your existing blog to the next level, I would strongly recommend that you give Food Blogger Pro a shot.
How to sign up for Food Blogger Pro
To sign up, just click on this link – Sign up for Food Blogger Pro
If you have any questions as you move along the courses, I will be there along with the awesome team of Food Blogger Pro and the 2000+ fellow bloggers to respond to your questions in our community forum.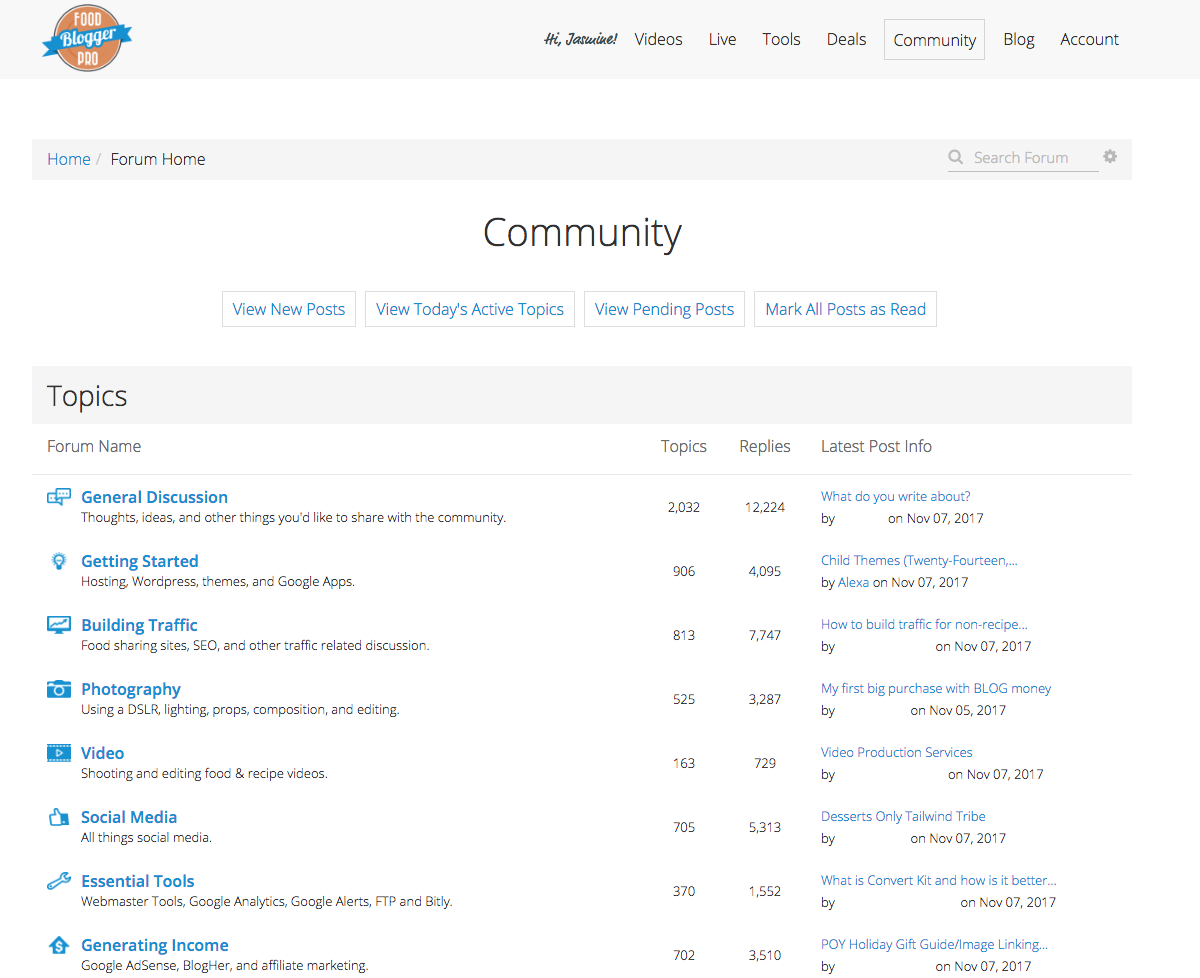 This has been a great investment for me, but if it is not the right match for you right now, I would highly recommend checking out their free podcast. It is a wealth of information in itself, and I religiously listen to every episode.
Other helpful links
Feedback
If you found this post helpful and/or have any questions for me, regarding my experience with Food Blogger Pro, please leave me a comment below, and I would be happy to answer, or you can email me at anu@simmertoslimmer.com.